Getting your website working with Lead Symphony requires a few special steps, but the steps are easy. We're always here to help if you need it, and you have unlimited phone and email support.
There are two parts to onboarding.
Part 1: Information Onboarding 
We need info to get you moving.
You received a questionnaire. Either email us your answers… OR submit it online. The questions are basic, but if you get stuck we can go over them together. Here's a link to the form:
https://leadsymphony.com/additional-information
Here is the info we request:
What is your company name?

What is your website address? i.e. BobsContracting.com

What would you like to call your Jobs? (ex: Jobs, Projects, Demo, etc.) The links will look like this, e.g., jobs.yourdomain.com or projects.yourdomain.com or whatever other word you choose. 

Who is your administrator (admin) and what email address do they use to login?

What are some categories you would like to start with? (ex: In Progress, Completed Projects, etc.)

What Keywords would you like to start with? (you can add more later)

What Additional Team Emails should we create login accounts for?

Any Other Notes Or Questions You Have.
Need help generating keywords or categories? Take a look at these:
Part 2: Subdomain Setup & Connecting Your Website
Subdomain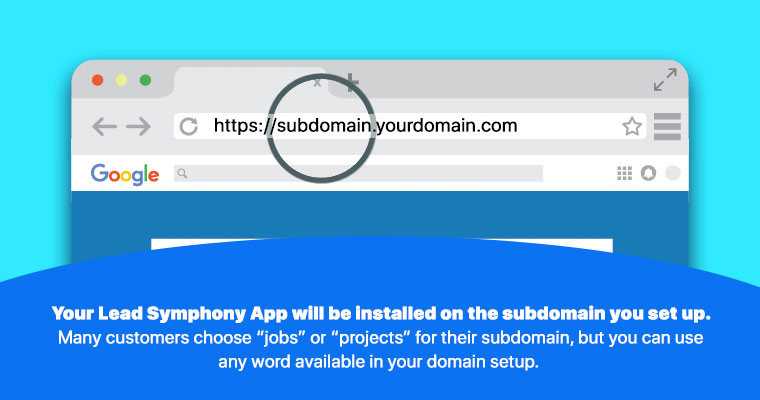 You will need a subdomain that points to your Lead Symphony Job Page. Choose a word that you want to use as an identifier for your project pages. Example: jobs or projects. Create a DNS entry for that word through your web developer or your hosting provider.
An example of a subdomain: https://jobs.yourdomain.com.
Using your domain DNS control panel please create your desired subdomain(jobs, demo, projects) and point the subdomain using DNS Record type "A" to this IP Address: 34.216.2.116 .

For more info, check out Create A Subdomain For Your Software.
Connecting Your Website
You will need a menu item on your website that points to your project pages subdomain. Create a link in your main menu for your subdomain. Example: Jobs (in your main menu) links to https://jobs.yourdomain.com. 
Once you finish onboarding, let us know. We'll test your account. Then you're all set to start training. If you need more help, just ask in the Training Hub.